We are cheerful to announce our Mystery Hero Box sale event on INO website.
Hero Arena is a Metaverse RPG Game inspired by the Dota2. It is a futuristic world where gamers can own heroes, train them, collect items, and combat to earn $. Mystery Hero Box is Hero Arena INO event in November.
By a certain ratio, users can randomly unbox heroes from 5 different rarities: Common, Rare, Elite, Legendary, Immortal. The higher the rarity is, the more valuable the hero is.
The Mysterious Hero Box includes 3 types: Silver Box, Gold Box, and Diamond Box. For each cell, there will be a different rare champion spawn rate. Each Box will unlock a random hero out of the 20,000 sold in this batch
Amount
20,000 Hero Box
Number of Heroes per Box
1 Hero
Payment
$HERA Token
Price per Box
Silver box: 100 $Hera
Gold Box: 150 $Hera
Diamond Box: 200 $Hera
2 rounds of INO event
1st Round: 1 PM (UTC) Nov 12 – 1 PM (UTC) Nov 15 with up to 12.000 Hero Box
(Optional) Public Round: 3 PM (UTC) Nov 15

2nd Round: Coming soon (Estimated price x1.5)
Moreover, each hero will be speared into 5 types: Common (40%), Rare (30%), Elite(15%), Legendary (10%) and Immortal will account for 5%.

1st round: Whitelist Round Conditions of participation
(1) More than 8,400 Boxes will be sold on Hero Arena NFT Marketplace.
(2) Another 3,600 Boxes will be sold on Bunicorn and it also pays by $HERA.
(3) Apply Whitelist to buy Hero Box.
How to buy: The condition to buy Mystery Hero Box is that you must be on the Whitelist.

Whitelisting registration: 1PM (UTC) Oct 30 – 1PM (UTC) Nov 10
Users must Stake a minimum of 500 Hera Tokens between October 30 and November 10. Hero Arena will take a snapshot at 1PM (UTC), Nov 10 to check whitelisted.
Whitelist announcement: 3AM (UTC) Nov 12
INO: 1PM (UTC) Nov 12 – 1PM (UTC) Nov 15
Unbox box and Check hero on Marketplace: 1PM (UTC) Nov 15
How to register for the Whitelist
Step 1: User accesses INO website to sign in and connect wallet
Step 2: Fill in and submit the Registration form: User address, Telegram ID, Email (optional)
(Optional) Public sale Round (if not sell out)
Start: 3:00 PM (UTC) Nov 15
Everyone can join, first come first serve and no limit amount of boxes/ purchase
REFERRAL EVENT
Each user when connecting will be generated a referral link, the user can use the link to send to other users. When a user receives the ref connection and registers the whitelist, the user will be recorded as a ref and will receive 10% commission for each successful box purchase of the user receiving the ref.
3 Steps get REFERRAL
Step 1: User press Copy and send link to other users or post on social channel

Step 2: User receive ref then click link and choose Connect wallet/Whitelist Register
Step 3: Referral is successful when the referred person starts buying Hero
Box Notice: The system has recorded the referral for the user, but the commission is only confirmed when buying a box successfully.
Referral divided into 2 level, for example, A sends link ref to B, B registers and B sends link ref to C, then: B will be Ref Lv1 of A C is Ref Lv1 of B and Ref Lv2 of A
Purchase box
The feature allows users to buy boxes to unbox heroes in the game.
On the day of the INO sale, the user goes to the website and connects the wallet.
If the user is on the whitelist, the Buy Hero Boxes button will be displayed, and if not in the whitelist, the button to buy will not be displayed.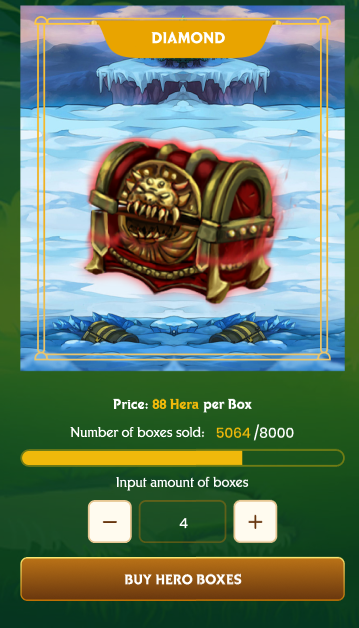 User chooses the quantity he wants to buy and selects the Buy Hero Boxes button (the system will check the maximum amount that the user is entitled to buy according to the above conditions)
User confirms the transaction on Metamask
When the purchase is complete, there will be a successful notification form. Public and user can go to profile to unbox
You will receive a commission from your referrals when they make a transaction
– Referrer will get 10%/transaction from Level 1 Referral
– Referrer will get 2%/transaction from Level 2 Referral Users can see the statistics of his total number of successful refs, including how many successful level 1 ref. And the total commission received to create Your Referral Result
At the end of each day, the user will receive a commission of successful ref transactions. Transaction information can be viewed in the Payment history section. The system saves the entire history of the user, which can be sorted by the latest or oldest time.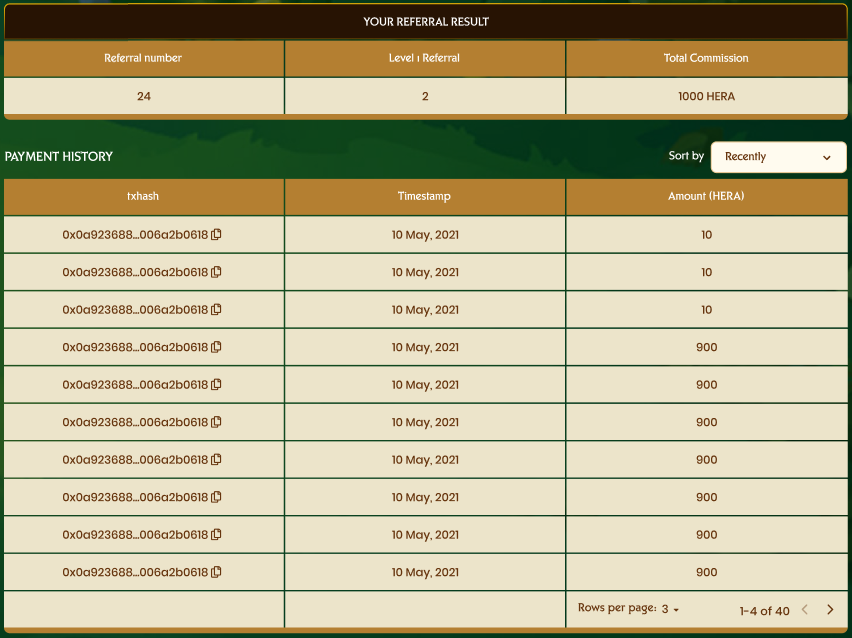 Contact us:
Website: https://heroarena.app/
Telegram Community: https://t.me/heroarenagame
Twitter: https://twitter.com/HeroArena_Hera